College Scholars Program
Updated February 2022
The UC Santa Cruz College Scholars Program (CSP) provides a stimulating home for highly motivated students to have community with like-minded peers during their first and second years as they explore research at a research university. Each year, we recruit and support a diverse cohort of College Scholars across all five academic divisions and all ten colleges who show potential to cultivate academic and non-academic strengths in a learning community. Between 20 and 25 students are housed in close proximity in each college and together participate in an enriched program of study designed to prepare them to take advantage of opportunities for undergraduate research at the upper division. Across four quarters, students have access to supplementary activities, special courses, small seminars, and a faculty research colloquium to explore what questions drive researchers and what forms research can take. To facilitate participation in these program requirements, CSP students receive priority enrollment during their time in the program. 
Researchers work in many sectors including academia, education and educational policy, foundations, government and public policy, housing and urban development, journalism, law, marketing and sales, medicine, public health, tech, and more!
College Scholars Admissions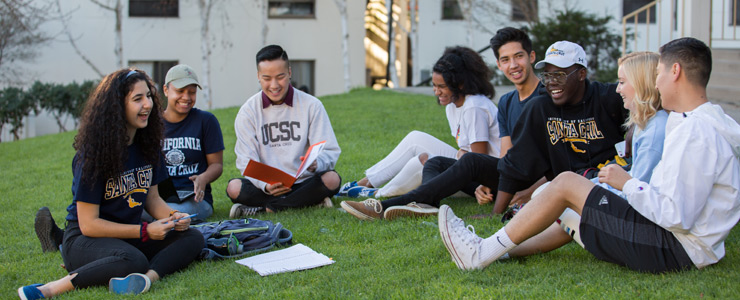 Frosh: Each year approximately 250 new frosh join the College Scholars Program. A selected group of frosh admitted to UC Santa Cruz are invited to join the program based on a variety of strengths evident in their application and with a mind to balancing the cohort across colleges and academic disciplines.  
Future CSP Directions: We are currently working to expand program access to second-year students already at UC Santa Cruz as well as junior transfers. Our new program model will also include four years of programming for admitted frosh. More information is coming soon!
Inquiries regarding the College Scholars Program can be directed to the College Scholars Program Coordinator at ur_hnrs@ucsc.edu. Virtual Slug Success appointments are also available.
CSP: Events & In the News  
The Water Table Model: global hydrology and sea level in the past and present
Tuesday, Feb 1, 2022
3:30p
Natural Science Annex 101

Learn about the UC Santa Cruz Natural Language Processing MS Program
Wednesday, Feb 2, 2022
9:00-10:00a
Virtual Event

Human Computer Interaction MS Info Session
Wednesday, Feb 2, 2022
6:00-7:00p
Virtual Event

Jorgge Menna Barreto – Voicescapes for the Landless
Wednesday, Feb 9, 2022
12:00-12:30p
Virtual Event (RSVP by 11:00a on the day of the event)
In-person: Center for Cultural Studies

Queering the White Male Gaze: From Mulvey to the Age of Networks via Watchmen (2019)
Wednesday, Feb 9, 2022
4:00p-6:00p
Porter College at UCSC, Building D, Room 245

Althea Wasow – Policing Blackness and Black Bodies in Bert Williams's "A Natural Born Gambler" (1916)
Wednesday, Feb 16, 2022
12:00-12:30p
Virtual Event (RSVP by 11:00a on the day of the event)
In-person: Center for Cultural Studies

Living Writers Series: Yuri Herrera
Thursday, Feb 24, 2022
5:20-6:55p
Virtual Event

Small Things Considered: How Phytoplankton Make Life Possible
Thursday, Feb 24, 2022
6:00p
Virtual Event
UCSC Newscenter - College Scholars Program exposes students to research opportunities
UCSC Newscenter - Enrico Ramirez-Ruiz, invited faculty speaker of the College Scholars Program, receives White House honors with mentoring award.