College Scholars Program
Updated November 2022
The UC Santa Cruz College Scholars Program (CSP) provides a stimulating home for highly motivated students to have community with like-minded peers during their first and second years as they explore research at a research university. Each year, we recruit and support a diverse cohort of College Scholars across all five academic divisions and all ten colleges who show potential to cultivate academic and non-academic strengths in a learning community. Between 20 and 25 students are housed in close proximity in each college and together participate in an enriched program of study designed to prepare them to take advantage of opportunities for undergraduate research at the upper division. Across four quarters, students have access to supplementary activities, special courses, small seminars, and a faculty research colloquium to explore what questions drive researchers and what forms research can take. To facilitate participation in these program requirements, CSP students receive priority enrollment during their time in the program. 
Researchers work in many sectors including academia, education and educational policy, foundations, government and public policy, housing and urban development, journalism, law, marketing and sales, medicine, public health, tech, and more!
College Scholars Admissions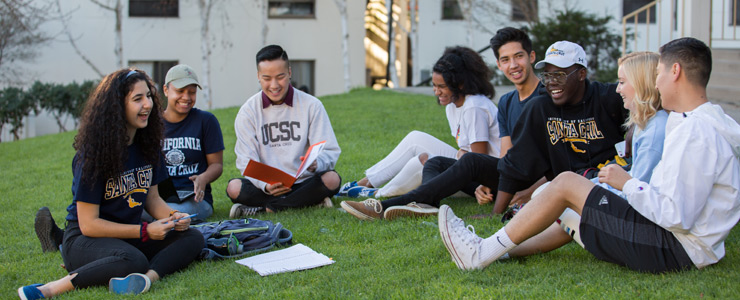 Frosh: In Fall 2022, the College Scholars Program moved to admitting the full cohort of scholars in the fall quarter. Each year approximately 250 new frosh join the College Scholars Program. A selected group of frosh admitted to UC Santa Cruz are invited to join the program based on a variety of strengths evident in their application and with a mind to balancing the cohort across colleges and academic disciplines. 
The admissions office sends out the invitations and provides instructions on how students can accept the invitation when they accept their offer of admissions.  
If you have any questions, please email us at honorscholars@ucsc.edu. 
Inquiries regarding the College Scholars Program can be directed to the College Scholars Program Coordinator at honorscholars@ucsc.edu. Virtual Slug Success appointments are also available.
CSP: Events & In the News  
Introduction to Undergraduate Research
(Designed for College Scholar Program students)
Slide Show Here
Chancellor's Undergraduate Internship Program
Application Deadline: February 20th, 2023 by 5:00pm
Apply via Handshake
Information Sessions: 
January 10th, 2023 from 10:am-10:30am
February 8th, 2023 from 1:00pm-1:30pm
Registration: via Handshake
Global Learning Summer Opportunities Fair
Date & Time: January 24, 2023 from 11:00am-3:00pm
Location: Quarry Plaza
Moving Up without Loosing Your Way - Jennifer Morton in Coversation with Jody Green
Date & Time: January 25th, 2023 @ 4:00pm
Location: In-person: University Center - Bhojwani Room or Virtual 
Registration: thi.ucsc.edu
Reservation Dogs Watch Party - Space limited
Date & Time: January 26, 2023 @ 6:30pm-8:00pm
Location: Cowell Coffee Shop & Cowell Fireside Lounge
Registration: Here
Information About Event: From Indigenous Co-Creators and Executive Producer, Sterlin Harjo and Taika Waititi, Reservation Dogs is a half-hour comedy that follows the exploits of "Elora Danan" (Devery Jacobs), "Bear Smallhill" (D'Pharaoh Woon-A-Tai), "Willie Jack" (Paulina Alexis) and "Cheese" (Lane Factor), four Indigenous teenagers from the Muscogee Nation in Oklahoma.
Join the AIRC and Cowell Coffee Shop to watch episodes of Season 1 and Season 2 (we will have 2 viewing rooms) and enjoy some "tradish" southern foods- fried catfish and hushpuppies!
Cookies and warm drinks also provided.

North American Language and Cultural Program -Light refreshments will be provided
Date & Time: January 31, 2023 @ 1:30pm
Location: Humanities Building 2, room 259
Information About Event:Enrique Asorey Brey, the Spanish Consul in San Francisco, will be presenting the NALCAP program (North American Language and Culture Program) which allows senior students and alumni to work as English teachers in Spain. 

Baskin Lecture with Joy Connolly - A Connected Planet: Scholarship for the Global Good
Date & Time: February 13, 2023 at 4:00pm
Location: In-person @ University Center: Bhojwani Room or virtual via zoom
Register by visiting thi.ucsc.edu