Karl S. Pister Leadership Opportunity Program
The Karl S. Pister Leadership Opportunity Award was established in 1993 by former chancellor Karl S. Pister to increase opportunities for talented community college students who want to transfer to UCSC. The award recognizes students who have overcome adverse socioeconomic circumstances, who have a demonstrated commitment to assisting and improving the lives of others, and who might not otherwise be able to attend UCSC for financial reasons.
Candidates are nominated by the presidents of each of the 13 regional community colleges (see list below). The nominations are reviewed by the Leadership Opportunity Awards Review Committee, and a student from each college will be nominated to receive up to $20,000 award ($10,000 awarded for two years).
Participating community colleges: Cabrillo College, Cañada College, College of San Mateo, De Anza College, Evergreen Valley College, Foothill College, Gavilan College, Hartnell College, Mission College, Monterey Peninsula College, San Jose City College, Skyline College, and West Valley College.
Pister Scholar Highlights
Valery Ortiz (2023) - UC Santa Cruz Pister Scholar, Valery Ortiz received both the 2023 Chancellor's Award and the divisional Dean's Award for her senior thesis. Ortiz is also a recipient of the 2023 NSF Graduate Research Fellowship Program (GRFP) grant, supporting her graduate studies and research at the Scripps Research Institute. Read more. 
Pearl Ibeanusi (2022) - UC Santa Cruz Pister Scholar, Pearl Ibeanusi was one of five women selected among nationwide applicatnts to receive a scholarship award recognizing her outstanding record of community service and educational and career goals. Read more.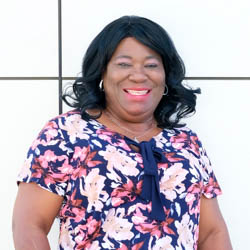 Tommy Alejandrez (2022) - UC Santa Cruz Pister Scholar Tommy Alejandrez was living on the streets when he met former NFL player Zack Follett on a busy corner in Fresno. The meeting—over a cup of coffee—sparked a friendship that would change both of their lives. Read more.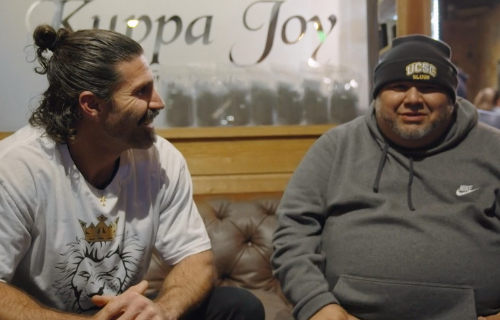 Zack Follett (left), an ex-linebacker for the Detroit Lions,
connecting with Alejandrez. (Screenshot courtesy Fox Sports)
---
Questions?
Contact: ur_hnrs@ucsc.edu